Looking to take your Toronto Wedding to the next dimension. Our Custom Cake Toppers will blow your guests away!
The cherry on top or should we say the Selftrait on top! 
The wedding cake is often the centerpiece of the joyous occasion. Did you know that cutting the cake was found to be as important as the first dance or even exchanging vows?  What if you could make your cake even more unique with a custom 3D printed cake topper! Or how about gifting this experience to friends and family, looking to one-up their wedding wow!
HOW?
When you come to the studio there are no rules for what should go on a cake. 
We often have couples in their dress and tuxedo step into the booth; but in recent months, many have opted for the more personal look.
BE YOURSELF
Dan and his fiancée Lauren came in with their stage outfits.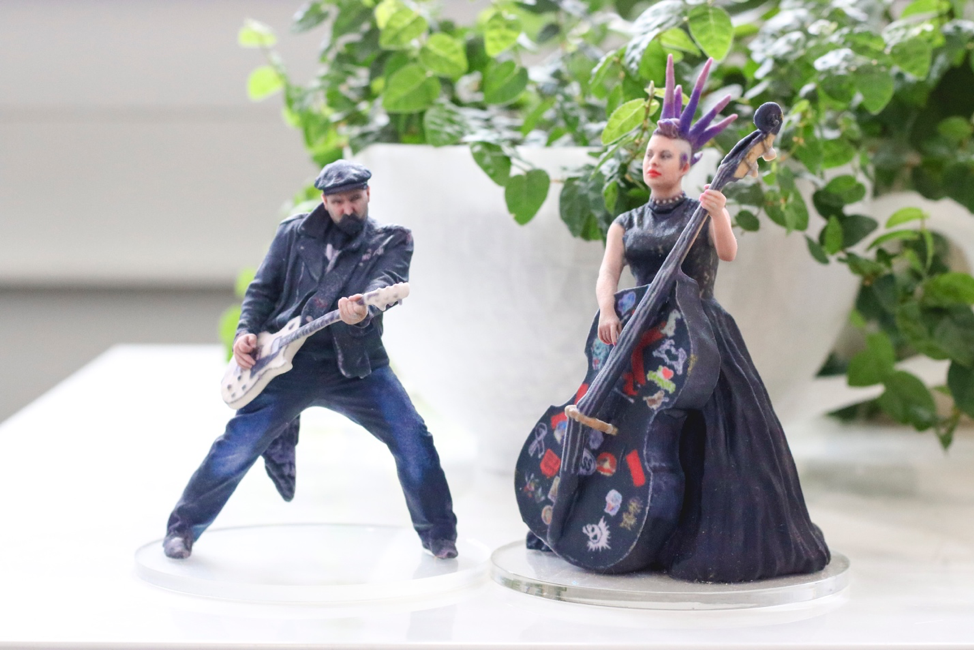 BRING PROPS
Include props, they will separate you from the pack.  Jenny opted to add prop dumbbells into their custom cake topper.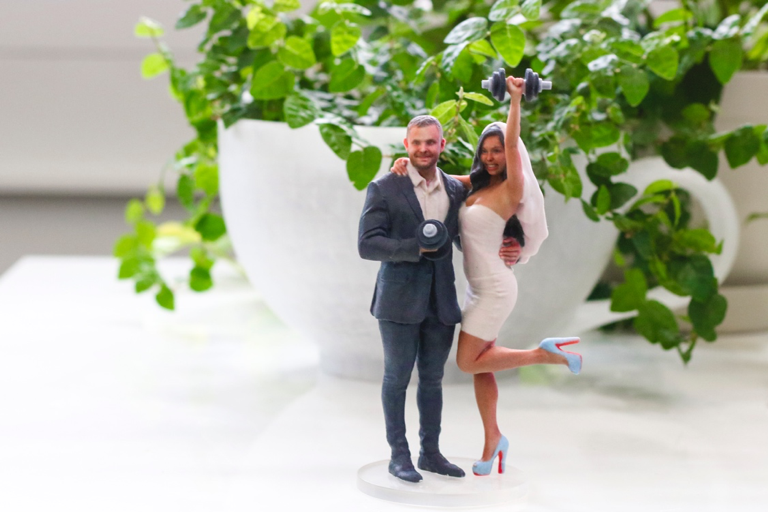 BE DYNAMIC
The most popular poses for 2018 have been the piggyback and the swoop.  Don't be afraid to get moving.  Our 3D scanning booth catches movements in a split second, so don't be afraid to show off your true character. We are all about capturing motion and emotion!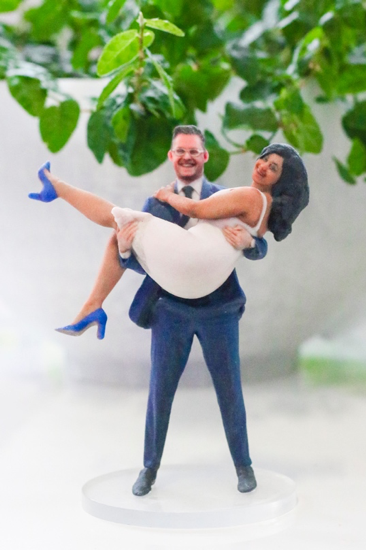 HAVE FUN
At the end of the day, shooting with us is a part of the wedding process. So have fun with it and if you need something specific feel free to ask your photographer all about it, we see new and creative idea each and every day.
https://studios.sculptraits3d.com/wp-content/uploads/2016/05/Selftraits_sculptraits_Studio_logo_white.png
0
0
Sculptraits Studios
https://studios.sculptraits3d.com/wp-content/uploads/2016/05/Selftraits_sculptraits_Studio_logo_white.png
Sculptraits Studios
2018-07-30 14:46:09
2019-06-19 14:12:14
How To Make Your Wedding Special With A Custom Cake Topper
Selftraits takes portrait photography to the third dimension
Get ready for your next obsession. Traditional portrait photography has reached a new level of fabulous fad – it's time to get a 3D-printed (and astonishingly lifelike) keepsake model of you, the kids, the family dog, or even your entire office!
Selftraits has taken our selfie-fascinated culture into the third dimension. Call it a wacky novelty or the finest art, it's the kind of thing you don't know you need until you see it.
---
Pose and Personality
Part of the secret to capturing not only dynamic pose but also personality lies in the Selftraits photo booth. Built in house and outfitted with more than 130 cameras, the unit grabs images from that many angles instantaneously. Images are digitally stitched together to get a 3D rendering, which is tidied up by graphic artists and sent to a 3D printer. After finishing, the model is ready for pick up or shipping, usually in about a week.
Selftraits is located at 36 Fieldway Rd. (between Kipling and Islington). Book in advance or drop in. For more information, including hours of operation, visit selftraits.com or call 416.966.2539.
---
Brief History
Selftraits launched on July 1st 2015, as a subsidiary Objex Unlimited, an established Canadian 3D printing company. Originally located on Davenport rd., Selftraits was conceived as a consumer-friendly and fun way to immerse the general public into the world of 3D printing.  
Through our #projexselfie initiative, we have been able to promote local charities, as well as donate a portion of our sales to their respective cause. Over the course of our #projexselfie campaigns, we have raised and donated more than $10,000 to various charities across the GTA!
We have seen our customer and fan base spread across all ages, demographics, and nationalities! From scanning children to entire offices, more people are finding fun and creative ways to use our services. The best part about working here is seeing our customers react to their model for the first time and we cannot wait to share this amazing product with even more people moving forward!